Looking for a way to teach your children about the faith? We have something for you!
Saint Andrew Religious Education (RE) will offer a family program for families with children from Kindergarten through High School utilizing the Family Catechesis Model. This model has been adopted to the needs of Saint Andrew families after two years of working with families and publishers to have the most flexible and dynamic program we can offer.
Not only does this model offer flexibility to kids and families who may have vacations, sports, grandparents to visit, etc. It has also been proven as a way of having families grow together in religious literacy and faith.
Classes will meet on Sunday mornings from 8:45 am to 9:50 am.
Were excited to offer this program at our parish because of its proven approachability and adaptability for families. We hope you'll join us in this journey!
Religious Education Recent Messages
Chapter 10 & 15 Links
December 12, 2018
Dear Parents, We are getting nearer and nearer to Christmas and I hope you and your families are excited about this holy day reserved for inspiring peace and joy within us. There is only one assignmen …

---

December Options for RE Classes
December 5, 2018
Dear Parents, I hope you are having a great week! A reminder that during the season of Advent, there are two options for you and your child's participation in Religious Education. 1. To attend the Adv …

---

K-2 This Sunday and Chapter 9 Links
November 28, 2018
Dear Parents, I hope you had a great Thanksgiving! I am writing to remind you about the schedule for Religious Education in the week ahead. There will be class for K-2 this Sunday, December 2, 2018 at …

---
First Communion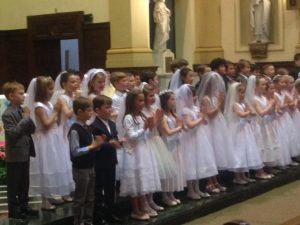 First and Second Grade students prepare for First Communion through RE. The normal expectation is to prepare for two years and receive First Communion in the second grade. This requires a few additional classes with their teacher for both first and second graders.
Second graders (and older children who are receiving First Communion) need to attend the following programs:
| | |
| --- | --- |
| TBA | First Reconciliation |
| Saturday, March 30 from 1 – 5 pm | First Communion Retreat |
| Thursday, May 2, 2019, 5:30 / 6:30 pm | First Communion Rehearsal |
| Saturday, May 4, 2018, 10:00am / 12:30pm  (TBA)) | First Communion Mass |
Confirmation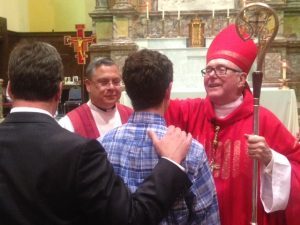 Our Confirmation preparation program is for youth who are in the 7th and 8th grade. This class meets at a different time (4:00 pm to 5:30 pm) on Sundays starting on September 9, 2018 and includes an all-day retreat on Saturday, October 20, 2018. The registration process is the same as the RE program.
Those seeking Confirmation should start in the beginning of their seventh grade year and should attend the parent-child meeting on Sunday, September 16, 2018 at 4:00pm.
Recent Messages - Confirmation St. Mary Class
Should We Change Class Time in January?
December 13, 2018
Dear Parents, I don't like changing schedules once they are set and I would always make accommodations if I caused harm to someone's schedule… … but it was pointed out to me that the nex …

---

Pre-Christmas Check In – Confirmation
December 12, 2018
Dear Parents, I wanted to write you to let you know that I really enjoyed meeting with your child(ren) last week during our Confirmation class. There were no assignments after the class and we don't m …

---

Class Next Week for Saint Mary's Confirmation Class
November 28, 2018
Dear Parents, I hope you had a wonderful Thanksgiving! I am writing to remind you that in the week ahead, we have class for your child in our Confirmation Program. If your child is in Religious Educat …

---
Recent Messages - Confirmation St. Joseph Class
Small Correction
December 13, 2018
Dear Parents, This message applies only to parents of Religious Education Students. I erroneously wrote the wrong date for the next Confirmation Class in the last email. The correct date for the next …

---

One Month to Go!
December 12, 2018
Dear Parents, I hope you are doing well in these last few weeks heading into Christmas. We are only a month away from the Sacrament of Confirmation at Saint Andrew and I deeply appreciate all the stud …

---

Confirmation Class this Sunday
November 29, 2018
Dear Parents, I hope you had a wonderful Thanksgiving! I am writing to remind you that we have a Confirmation class this Sunday, December 2, 2018 from 4:00pm to 5:30pm A small change of which to take …

---